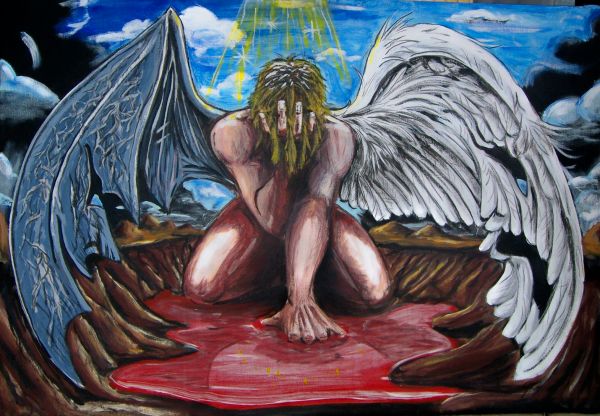 Acrylic Painting on home stretched canvas finished dimension is 48"x32"

Please notice the drama masks contained in the wings. They represent the duality of nature. The happy mask on the bat wing represents our negative self image, things that are dark etc. Sad mask representing the other extreme of our own self image as well as things that are fluffy and nice.
The hand grasping at his reflection in the blood Represents our focus on self and not the big picture.
The hand clutching his forehead in anguish is meant to portray "with much knowledge comes much pain".
Rays represent our connection with God. Falling on his back to show this relationship is there wether we know it or not.

I had no model or idea when I began this painting. It was as if the canvas seized me and this is what came out. That is why I refer to myself as the brush in Gods hand. It is being swept away in the creation that I enjoy the most about my artwork.