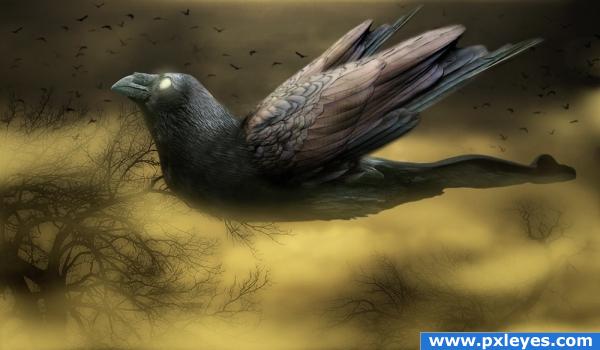 This is my entry for the contest on PST.
Even though I am usually very organized with my stuff on the computer...and keep most of it as well....I simply couldn't find the SBS or photoshop folders for it!
So I apologize for the short SBS.
Basically, I made the strange looking flying creature out of pieces selected from a crow and added them onto the deco girl. Then added backround trees, birds and fog and colored the entire image using gradient adjustment layers.
Hope you still like it!

Credits to:
- "bjearwicke" for tree silhouettes; official account at: http://www.sxc.hu/profile/bjearwicke and please check http://garrisonphoto.org/sxc/ as well;
- "wyckedbrush" on deviantart.com; http://wyckedbrush.deviantart.com/ for more wonderful brushes;
- "qbrush.com" and "cgtextures.com" for an endless source of inspiration and good images.