Today Adobe released Creative Suite 5, the next generation of its tools for creative professionals everywhere. Along with thousands of others worldwide, I joined the global CS5 launch and watched the brief 62-minute presentation on all the amazing leaps Adobe has made in the new suite.
Adobe Creative Suite 5 is much more than an incremental upgrade from CS4. It introduces a host of new features for web designers, graphic designers, photographers, video editors, web developers, media distribution specialists, mobile application developers, and everyone else using Adobe tools for their creative work.
Some of the features look positively magical, reducing previously difficult tasks, things like rotoscoping and mask painting, to just a few clicks.
Photoshop CS5
Content-Aware Fill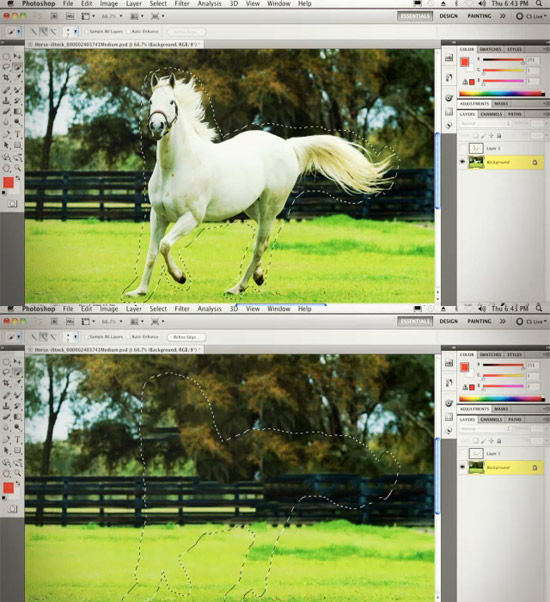 Probably the most well-known new feature of Photoshop CS5 is the Content-Aware Fill. This tool allows photographers and photomanipulators unprecedented control over photo images. Like the Spot Healing brush tool, Content-Aware Fill does its magic automatically, and undoubtedly some human control will be necessary, but the cost and time savings that Content-Aware Fill introduces are ground-breaking. If there's an object you need to get rid of in an image, it's now as easy as selecting the object in question and pressing Delete. In previous versions, this was a laborious, if not impossible, process. See for yourself how easy Content-Aware Fill is below:
Refine Edge
Refine Edge is another really important tool for photographers and for artists working with raw images. While Adobe has continuously optimized its selection tools, selecting soft edges like hair continued to be a big problem. Now the Refine Edge tool allows users to fine-tune their selections to include as much detail as they want. This is a fantastic tool for those of us who have to deal with compositing high-resolution images.
Repoussé
Repousse is a new tool with interesting implications. It allows users to extrude 2D objects like type and shapes into a third dimension. Those of us old enough to remember the heyday of Xara3D and the endless barrage of 3D text can recall how hideous the effects of allowing regular users the power of 3D were. It seems not much has changed, but the ability to manipulate high-fidelity 3D objects inside Photoshop removes the traditional workflow of compositing 3D elements into a 2D image and makes the experience much more fluid.
Puppet Warp
Puppet Warp allows users to create a distortion skeleton for their objects. Think of it as animating 2D objects as if they were 3D objects. This is a great development for artists who need to adjust pictures of people to slightly (or radically) different poses. Obviously, the tool can be useful in more unorthodox approaches, such as positioning characters made out of random imagery, like Transformers, or creating new and interesting positions for flowers, trees, and skyscrapers.
New Paint Engine
One of the more subtle new features of Photoshop is the new paint engine, which imitates how paint brushes work in real life, with smudging, smearing, and all sorts of other realistic side effects. This allows digital painters to breathe easier about making their work look realistic and makes matte painters' jobs much easier.
Raw Image Processing
Photoshop introduces huge improvements in Camera Raw for photographers both wishing to make their photos seem more authentic and wishing to get rid of all that pesky noisy "authenticity." The new fantastic noise reduction tools preserve the smooth gradations our eyes see in the real world and remove the digital noise added by CCDs.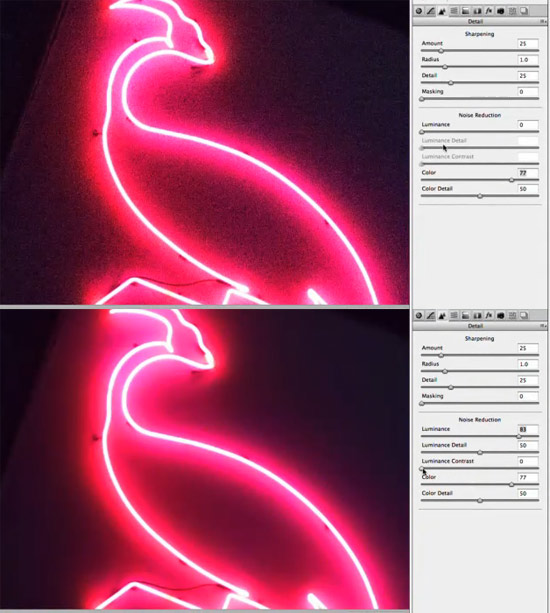 Of course, noise implies authenticity, so those with photos a little too smooth (or renders too clean) can now apply all sorts of processing to their work to give it a rough, deep feel. Post-crop vignette controls also add a touch of realism previously requiring laborious boilerplate steps. Camera Raw works with any file, from JPEG to RAW, so there are unlimited possibilities in creative use of the new processing features.
New HDR Imaging Tools
High Dynamic Range imaging has become extremely popular in the last few years and Adobe has provided progressive tools to deal with this new technique. Photoshop now automatically combines several photographs with different exposures into one, but this isn't a spectacular feature for most HDR buffs. What's really amazing is the "Remove ghosts" feature which processes all of the various shots and takes out the few where an element in the photo is in a different spot than it should be (due to wind, camera movement, or other factors), providing a crisp, clear HDR picture as the final result.
Adobe has also included "HDR Toning," which allows users to take a non-HDR photo and make it look like an HDR photo. The HDR enthusiasts may collectively groan at the apparent silliness that may ensue from this feature, but it's a fantastic tool for those of us not working in photography (or not even working with photographs at all) as an additional effect that can be applied to increase authenticity and photorealism.
New 3D Tools
3D has been integrated into Photoshop already, but CS5 pushes the integration to new limits. Lights can be added, shadows can be cast, materials changed, and images generally improved. Just like Repousse, this new integration removes the need for 3D packages, especially in simple comps. It also has the unfortunate effect of making 3D integration much easier for amateurs, so care must be applied when using the new tools, so as not to make images look gaudy and unprofessional.
Flash CS5
The show-stopper of the launch was definitely Photoshop and all of its new additions, but Flash also acquired some quiet upgrades, enhancing workflow across the suite.
Threaded Text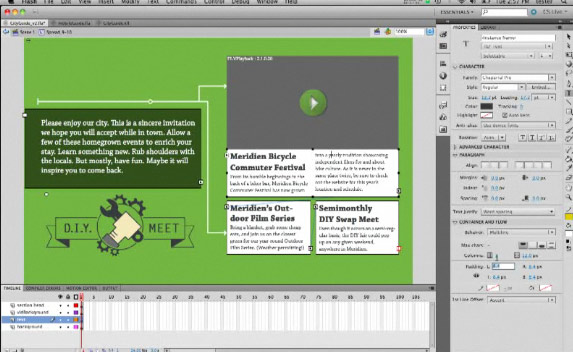 Leave it to Adobe to make a simple typographical concept into something much more complex-sounding. Threaded text allows users to have their text content span across various containers. Each container can also have its own column mode, organizing its chunk of the text into 2- or 3-column pieces.
FLA format overhaul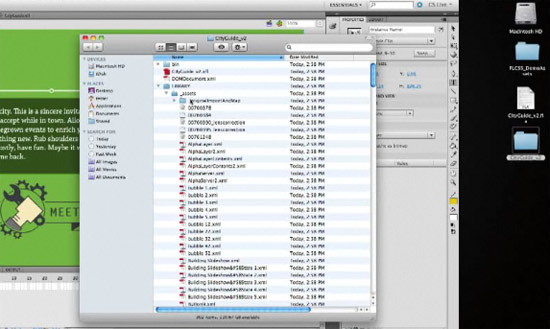 Adobe continues the proud Macromedia tradition of reinventing the FLA format with each release of Flash. FLA is now XML, instead of binary. Additionally, users can save Flash files in an uncompressed format, allowing for version control systems to index Flash projects and for outside users to (presumably) change and update assets used within the Flash file.
Flash to iPhone
As I'm sure some readers have heard, Apple has decided to viciously marginalize any software targeted to the iPhone that wasn't developed using Apple tools. This leaves the much-trumpeted Flash-to-iPhone conversion in CS5 in legal limbo. Will this be a useless feature? Not at all, it can be used to prototype apps at breakneck speed to show clients potential variations and iterations. Afterwards, however, it'll have to be tediously built up using the iPhone SDK, but that's a small price to pay for the ability to leverage existing knowledge in the iPhone domain.
Flash Catalyst
This was glossed over in the presentation, but the gist of it is simple: use the layouts you created in Illustrator and Photoshop in a pipeline to Flash. If you have a layout but don't have the Flash chops, no problem, just import it in Flash Catalyst, give some objects some interactive properties, and hand it off to the next person down the pipeline. Catalyst is tightly integrated with Flex and Flash Builder (and therefore the .fxp format), so it's a perfect bridge between code-agnostic designers and aesthetics-agnostic developers.
Illustrator CS5, InDesign CS5, AfterEffects CS5
Adobe did their best to cram as much information as possible into their hour-long presentation. There was a lot of information for managers, some for developers, but most of it focused on Photoshop, a fair deal on Flash, and some time was devoted to Illustrator, InDesign, and AfterEffects. Here's what's changed in the CS5 versions of the trio.
Illustrator CS5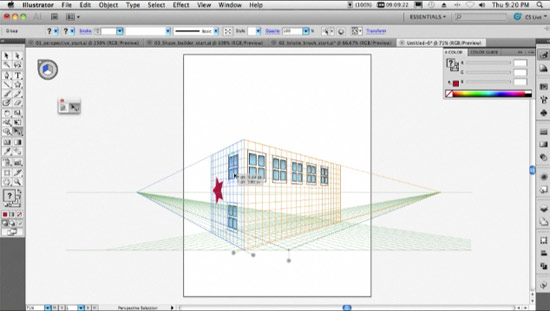 The CS5 incarnation of Illustrator includes the fantastic Perspective Grid tool which allows illustrators to automatically draw in perspective. The grid can be adjusted, items can be moved from one side of the grid to another, and best of all, imported items can be made to fit on the grid with ease.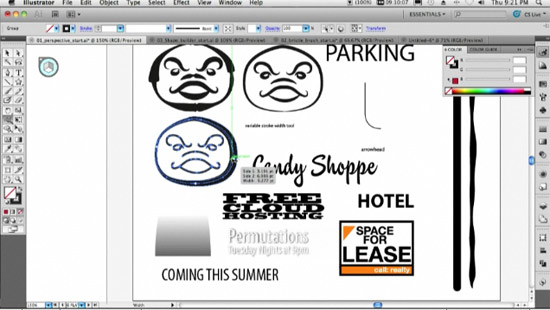 Illustrator CS5 also includes the Width tool which allows users to create points on a path that specify the width of the stroke at those particular points. This is a fantastic addition that makes variations on characters, fonts, logos, and many other things as simple as adjusting a few number values.
Another fantastic development is the "Draw Inside" mode which lets artists draw inside a particular shape, automatically masking their work to fit into the selected shape. The mode works for editable text as well, which makes previously complex effects extremely easy. Finally, the Shape Builder tool makes combining several shapes into one continunous path straightforward and simple.
InDesign CS5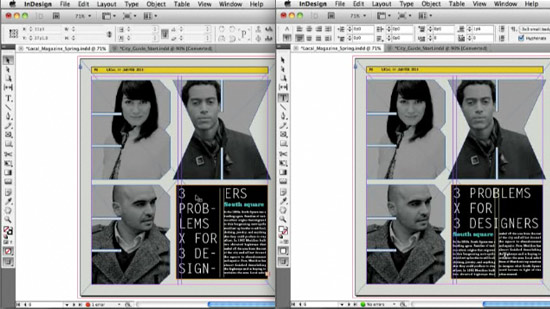 InDesign can now span text across multiple frames, which is as cool as it sounds. This makes layouts simpler while retaining structure, which is always welcome. The new Gap tool adjusts frame sizes while keeping the gaps between them intact. Also included is the ability to specify multiple page sizes for documents (a boon for guys like Joel Bauer).
After Effects CS5
After Effects CS5 shares the newly-introduced Mercury Playback Engine with its less-able cousin, Premiere Pro. Along with 64-bit performance on OS X, this new engine also allows for a general improvement in functionality. AE CS5 also introduces the update of the Mocha planar tracking feature that now tracks shapes instead of points.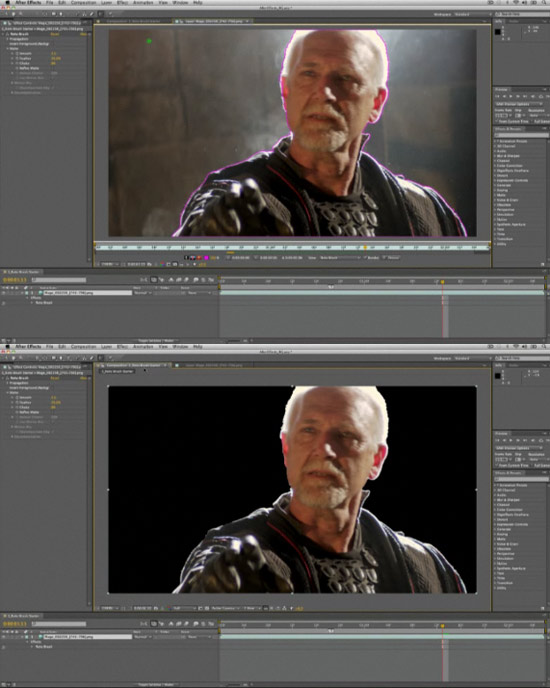 The big deal in AE CS5 is the Roto Brush. This deceptively simple tool allows artists to isolate elements with extreme ease. It's best understood as allowing artists to quickly highlight and fine-tune areas in the video where the frame should be isolated, not unlike the new selection tools in Photoshop CS5.
Final Verdict
Adobe CS5 looks like a major leap for what has been commonly perceived as an incohesive and difficult collection of tools. There is some incredible original engineering behind the scenes, which collectively moves digital art forward.
From time-savers to eye-poppers, the new features in CS5 demonstrate that Adobe understands its users and understands their needs. When artists don't have to spend hours on overcoming artificially-imposed barriers, they can focus on making more sophisticated and interesting art.
There are concerns with the new features, though, as there always must be. Some of CS5′s improvements may make the process of digital art seem unrealistically easy (certainly the popular perception of digital artists as button-pushers doesn't help), but this is the price we pay to enjoy a more streamlined and better-integrated workflow. Adobe has a winner on its hands and I, for one, can't wait to use the new Creative Suite.
says:
says:
says:
says:
says:
says:
says:
says:
says:
says:
says:
says:
says:
says:
Recommendations from other websites: