It's essential for any CG artist to know how to properly light a scene. Here's a collection of eight high-quality tutorials that will acquaint you with the basics of 3D lighting and perhaps give you some ideas for your next project.
The tutorials all use 3ds max as the choice application, but the principles are universal and many of the names and concepts you'll read about are almost exactly the same across all 3D applications.
3DS Max Lights
This tutorial focuses on the actual light objects in 3ds, so you can understand what each of them does. Knowing the difference between a spot and an omni light is crucial, so make sure you read this if you don't already know about 3ds lights.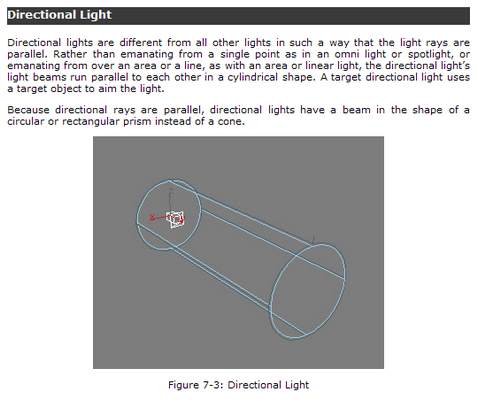 Lighting Tutorial
Taking a more abstract view on lighting, this tutorial by Amaan Akram, explains the components and the properties of lights, such as intensity, direction, color and size. Amaan also takes some time to explain how lighting affects what's being lit. In the case of characters, different lighting setups affect how the character is perceived, whether he is ominous or harmless. This is an essential tutorial for those who are aware of the technical basics, but don't understand how to leverage lights to artistic advantage.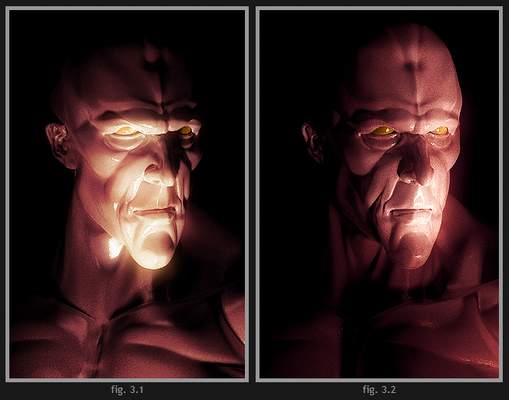 Three-Point Lighting Tutorial
The three point light setup, when understood and used, puts its practitioners ahead of most CG artists. This tutorial is a straightforward introduction to three-point lighting, complete with values you can use for the lights you create. It's a practical introduction to one of the most useful lighting setups in any CG artist's arsenal.
Three-Point Lighting Tutorial 2
This tutorial explains in more abstract terms what the three point lighting setup is and why it's useful. There are also several illustrations showing the makeup of three point lighting and what its benefits are.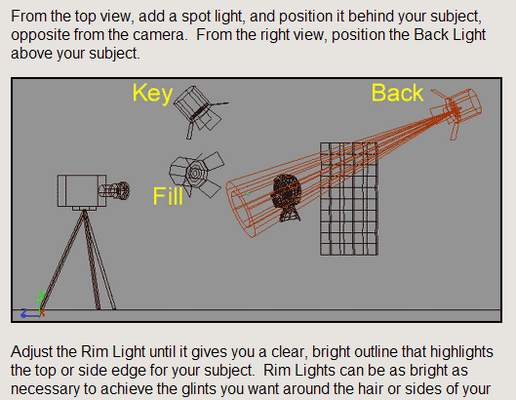 Basic Lighting
Now you'll be introduced to a new light type: the skylight. This short tutorial shows how the skylight is used and what to do when lighting an exterior scene in different weather conditions.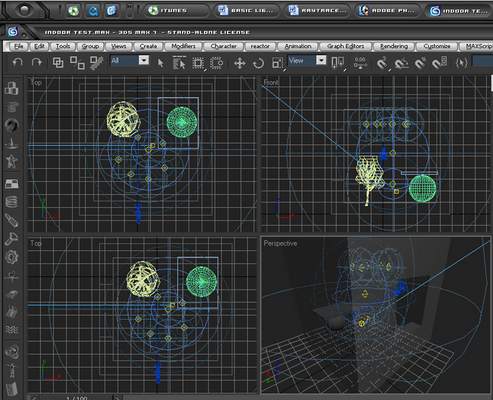 Clay Render with Mental Ray Final Gather
When modelers finish a model, they usually don't have an idea for how to light it or texture it, so the best practice has been to create a "clay render" of the model using global illumination. This is a good idea because global illumination offers a balanced, even look at the model that an ordinary light setup might not provide. Understanding how to create clay renders also teaches you a bit about global illumination and how it works.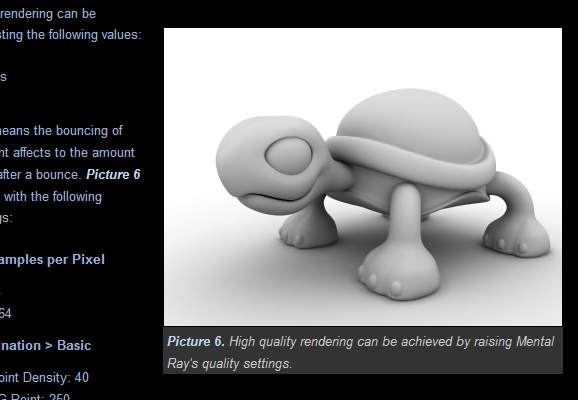 Simple Light Setup in Radiosity
3ds max includes several tools for lighting a scene and one of them is radiosity. Radiosity is usually associated with architectural renders and most 3D artists don't bother with it, unless precise and accurate lighting is required. Quite a lot of action in 3D happens indoors and learning how to simulate real-world lighting in buildings is very useful knowledge.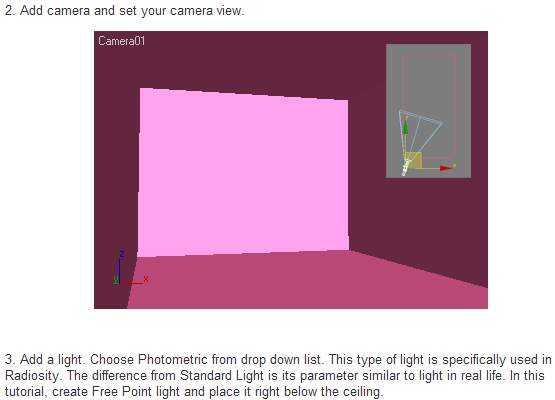 3ds max Mental Ray Lighting Tutorial
This is a fantastic tutorial that shows how to build and light a rudimentary indoor scene. You'll learn how to use the mental ray engine embedded inside 3ds max to great effect. If you're considering doing a lot of projects that take place indoors, it's absolutely imperative that you see how most indoor sets are built and lit.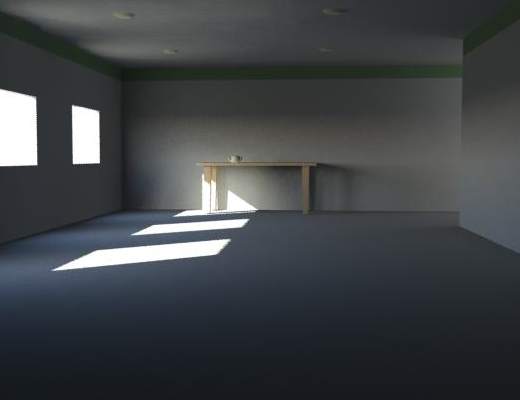 says:
Recommendations from other websites: