Even though many of our readers might have seen your photos already since you published for instance in National
Geographic, Animal Planet and many other magazines / websites before and soon you'll have your own photobook, can
you introduce yourself first?
Hi! My name is Seth Casteel and I am a lifestyle pet photographer. I
created a series of photos called "Underwater Dogs" which unexpectedly became popular all over the world!
I travel the world photographing pets for various clients, including pet owners, books, magazines and TV Shows. I also manage
a non-profit called SecondChancePhotos.org, which helps shelter pets find forever homes.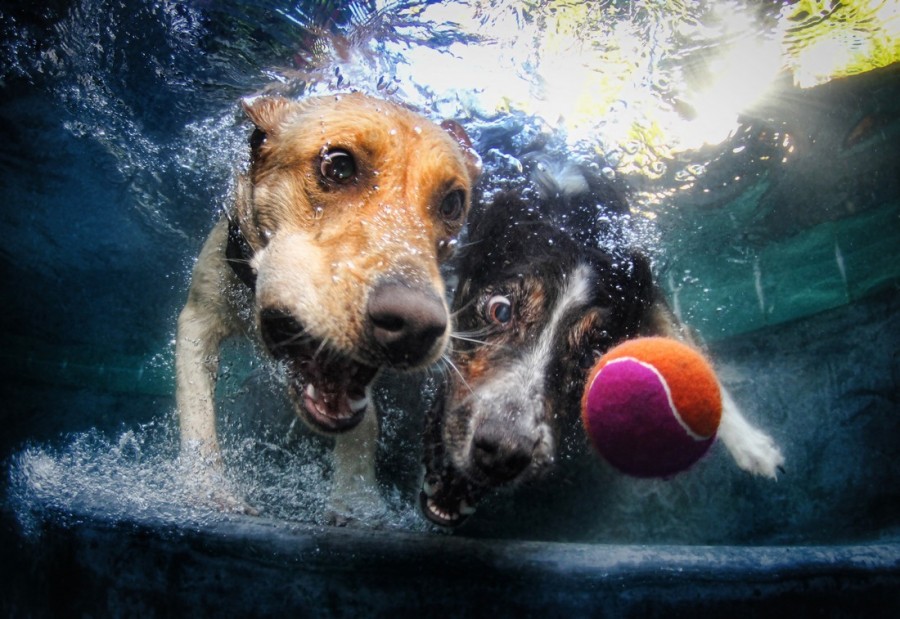 Your favorite subject to photograph seems to be pets, how did you come to this specialty? Do you own
some pets yourself?
Since I was a kid, I've always loved animals. I had a miniature dachshund named Duchess for 17 years! I used to have
a different career – in movie advertising. I created movie posters and trailers for films such as 007 and
Spider-Man. While working at Sony Pictures, some friends of mine found a litter of homeless kittens. I offered to
take a few photos to help get them adopted.
Sure enough, all were adopted. A few weeks later, HELLO, more kittens!
More pictures, new homes. I started volunteering at a local animal shelter, photographing both cats and dogs to
increase adoption rates. I didn't realize it at the time, but this was the beginning of my new-found career.
I do
own two dogs – well two dogs own me as they say. A pound-puppy mini-labradoodle named Nala and a Norwich Terrier
named Fritz. Ironically, neither of them like the water, but they are EXCELLENT at sitting at the couch. I have a
million pictures of that!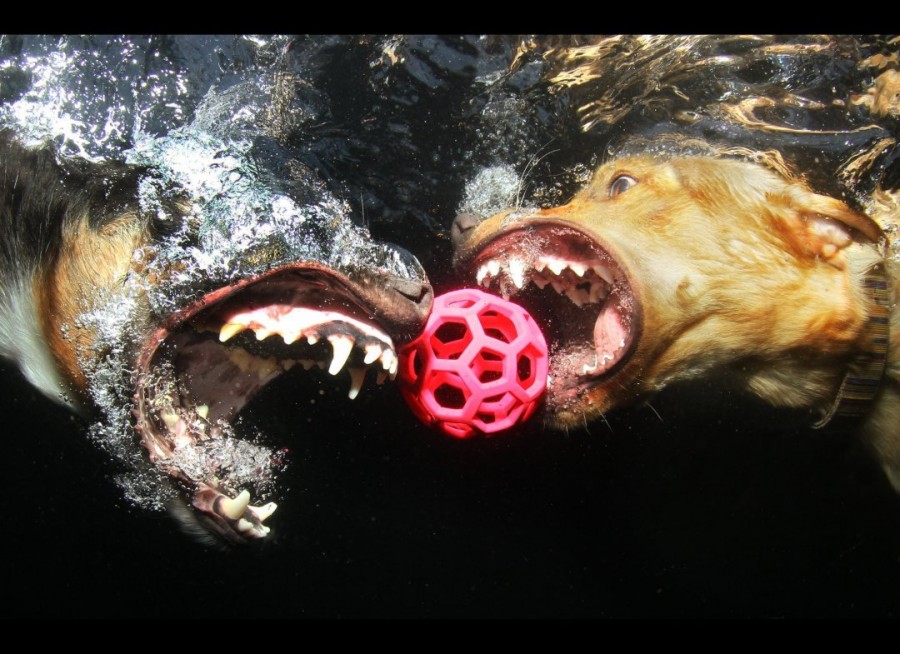 Your series of 'underwater dogs' (of which we can see some examples with this article) is amazing. You
even publish a book about them on October 23 this year (available at f.i. Amazon (see here). How did you start
making those photos?
I'm so excited about the forthcoming book!!! Dozens of never-before-seen photos including a Pug, 12-week-old puppies
and even a Wolf! This series of photos was just a happy accident.
Back in 2010, I was photographing a Cavalier King Charles named Buster in his backyard in Orange, California. The
photo shoot was meant to be on-land, but Buster decided he would spend the entire time in the pool, jumping in over
and over again after his favorite mini tennis ball.
I wondered, "What does he look like under there!!!". I left,
bought a point-and-shoot underwater camera, zipped back and jumped in. The resulting photos were the beginning of
this series.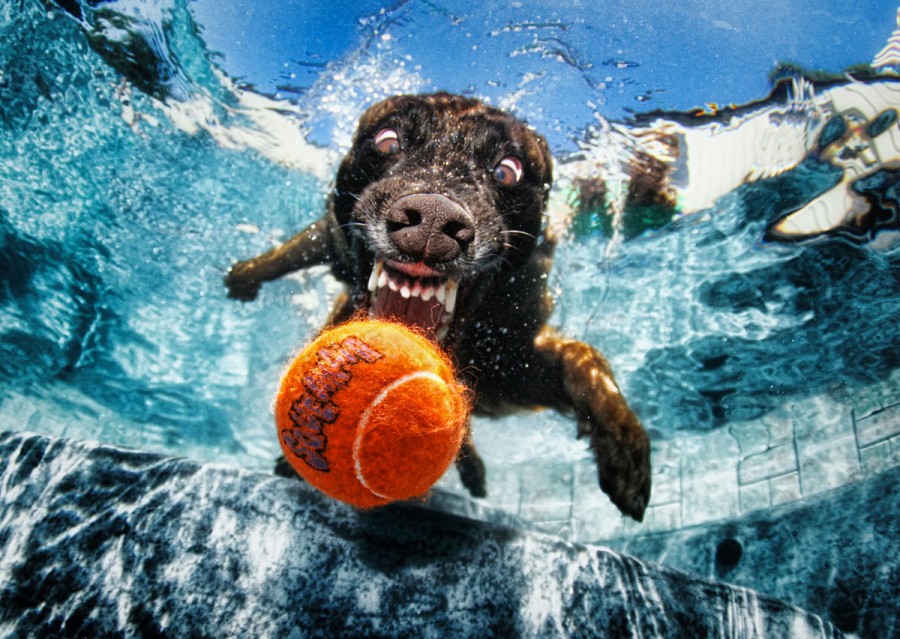 What can you advise our members about photographing pets?
I think the key to photographing pets is EMOTION. If you can find a way to capture the emotion of a pet, then you
have a special picture.
The best way to do this is to embrace THEIR lifestyle. I don't know too many pets that sit in a studio in front of a
backdrop with weird strobes firing off, so I like to use the world around me for a location, especially any place
the pet likes to go. A pet with a happy attitude = the most ideal situation for photographs.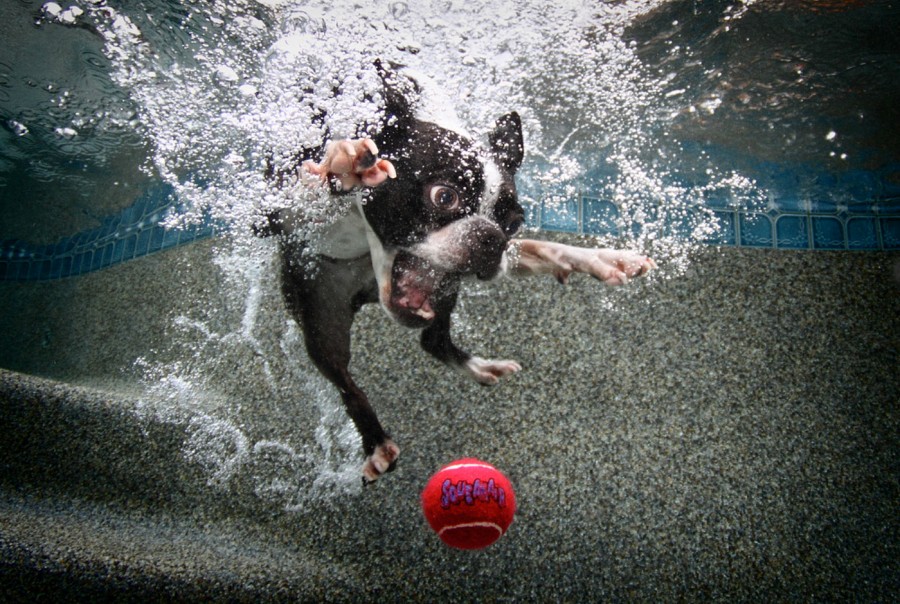 What kind of equipment do you use doing underwater photography?
I use a Canon 7D with a custom-built underwater housing. Fisheye lens. Flash. A wetsuit if the water is chilly. A
pair of goggles to see what's going on. A weight belt to keep me below the surface. And of course, a tennis ball.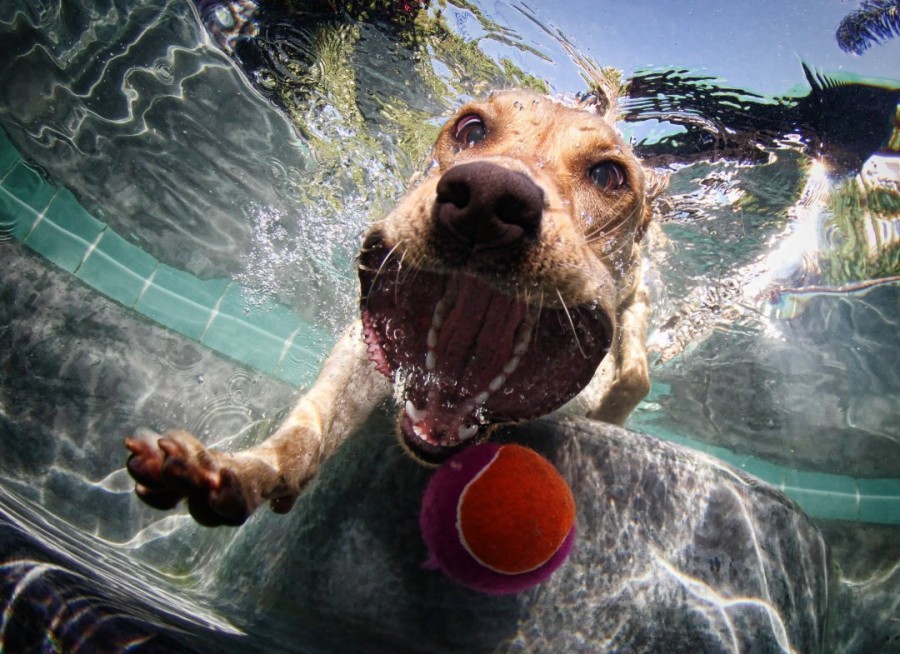 Underwater photography is a specialty on it's own, do you encounter problems which are complete
different from photographing the same object under normal circumstances and how do you tackle those
problems?
Photographing dogs in general is absolutely unpredictable. You have to realize that and just be patient.
Photographing dogs underwater is absolutely unpredictable x 10! There are so many unpredictable variables – the
attitude of the dog, the physique and color of the dog, the temperature of the water, the clarity of the water, the
lighting, etc etc etc!
It's impossible for me to know what the resulting photos will look like from an underwater
photo shoot with a dog. But this is why I love it! It's exhilarating! Unpredictable variables bring unpredictable
results!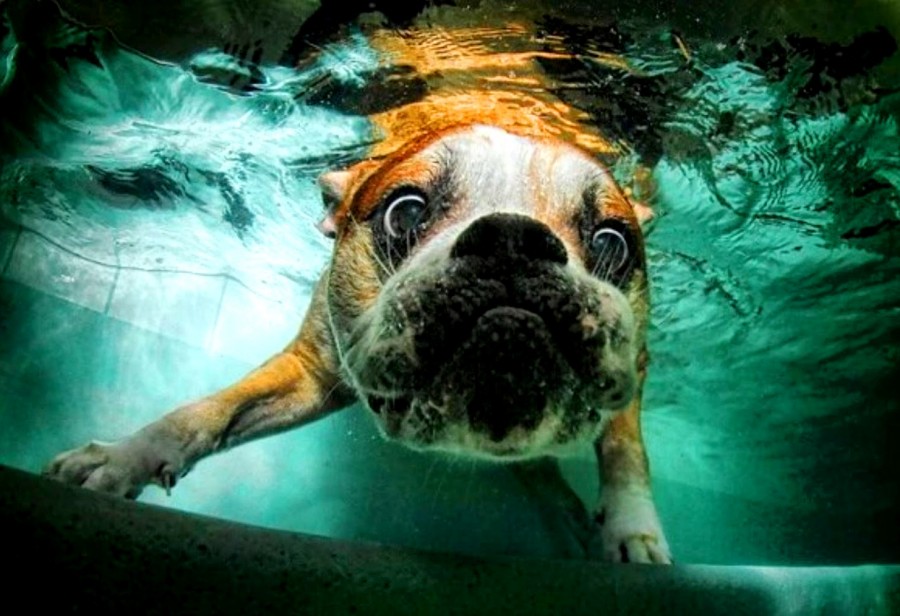 I can imagine photographing pets can be great fun but also time consuming. Pets just do their own thing
when they loose their interest or are just to afraid. In your underwater photos of them you obviously keep them
playing a game they enjoy, but what do you do when some dogs are getting bored of are afraid?
If dogs get bored, we take a break. If they are afraid, we do an on-land shoot instead. 🙂 Not all dogs are meant to
do an underwater shoot and it's important to respect that. All of the dogs in my photographs have voluntarily come
swimming with me and dove under the water – and had fun along the way.
And many of the dogs in my book had never been underwater until they met me, and some had never been swimming! It's so exciting to watch them! I have noticed
that certain dogs that seem afraid of the pool are not afraid of water, but just unsure of the pool environment.
Since a pool isn't a natural body of water, it's confusing. The concrete. The ladder. The steps. The lack of a
natural "ramp" into the water. Once dogs figure out the pool is "OK", usually their attitude will change.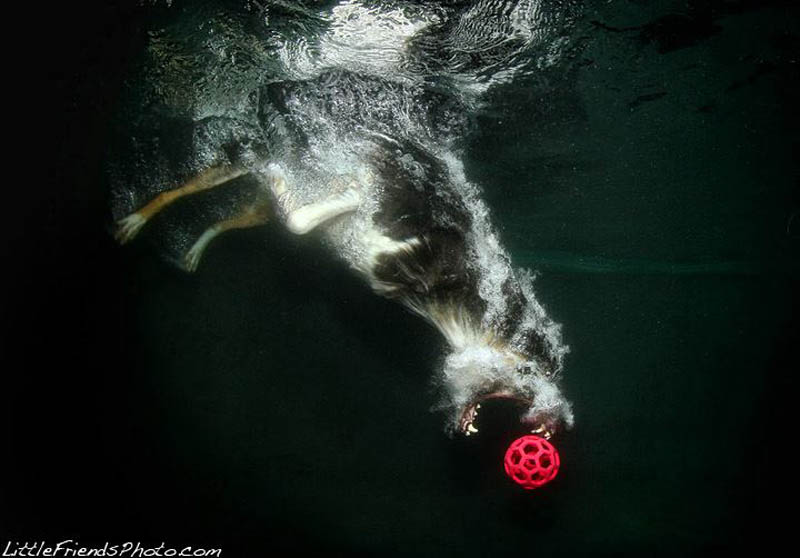 You obviously love pets, you are involved in relocating them as well. The website
www.secondchancephotos.org, of which you are a part, offers advise to shelters how to show off the pets they
have in their care. What is the biggest mistake they can make and what would be your advise to make those photos
more interesting?
The biggest mistake would be to show photos with negative elements. You see many photos where the pets looks
terrified or sick. Cages. Bars. Concrete. All no-no's. It's important to create POSITIVE photos, showing elements of
nature when possible and revealing positive characteristics of the pet.
Negative photos scare people away from the shelter, but uplifting, hopeful portraits welcome people to shelter and ultimately save lives.
We all have dreams and wishes, what would be a dream project for you to do in the future?
My dream is to live in a world where we have no more homeless pets. Anything I can do to help with that effort, you
can count me in!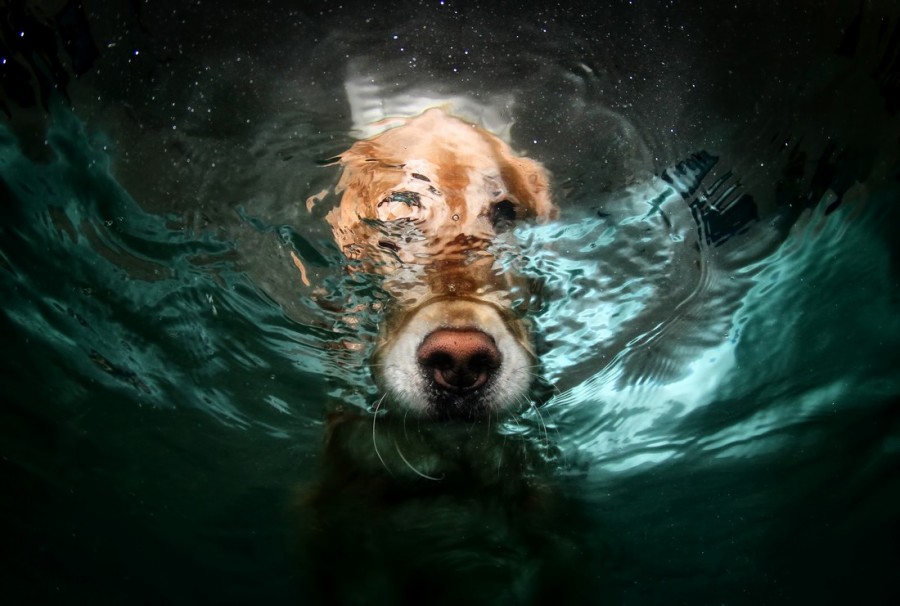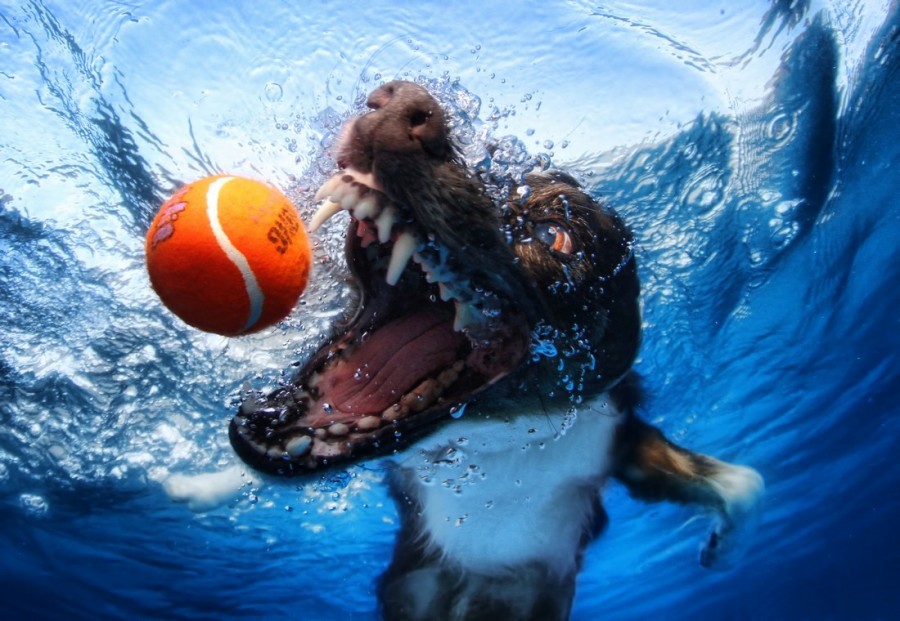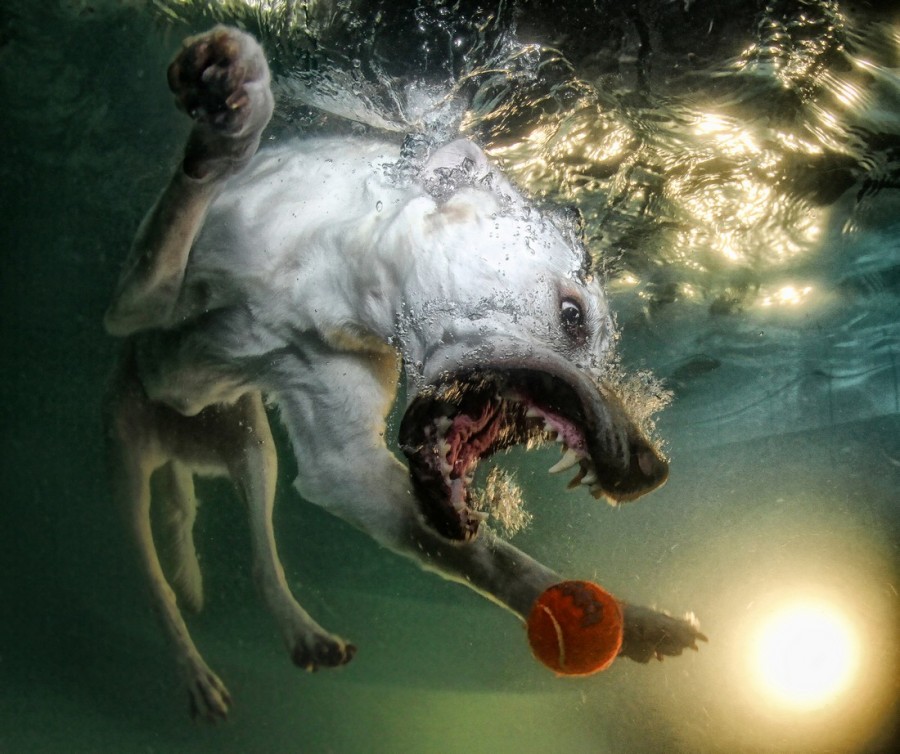 Thanks for this interview Seth Casteel – Seth Casteel's website