Ever since photography has been around, people have been photographing sports. In the old days, most of the photos were made on glass plates (so called Collodion process)
This collection of photos will show you weird sports, vintage equipment and most of all pioneers and sport heroes of those days.
All 121 photos were taken before 1925 and each photo has a short explanation of its historic value.
First modern Olympic Games in 1894, Athens.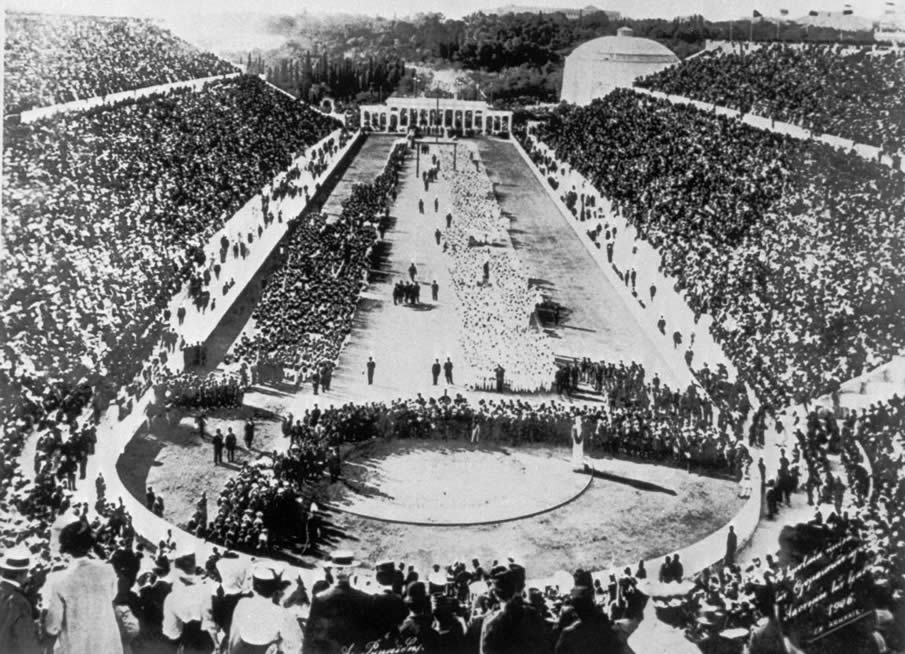 author:
here
Bobby Walthour, with pacer Hoffman, about 1903-04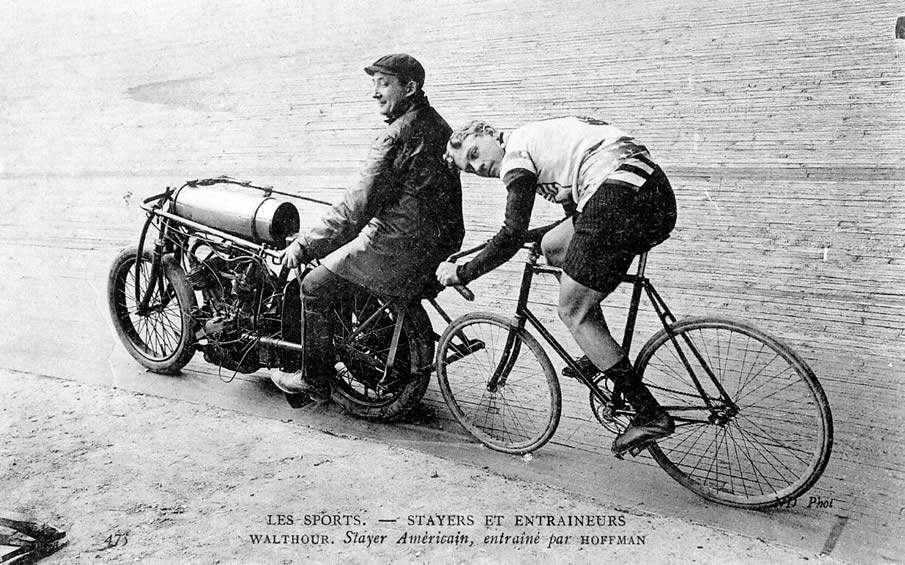 Bobby Walthour started his career as a sprinter and developed into a formidable six-day rider, but achieved his greatest fame as a fearless motor-pacer. Walthour turned professional in 1896. He won America's greatest race, the six-day race inside Madison Square Garden, with his partner, Canadian Archie McEachern, in 1901. Walthour again won at the Garden in 1903 with fellow American southerner Bennie Munroe. In 1902 and 1903 Walthour won American motor-paced championships. Walthour won the motor-pacing World Championships in 1904 in London and in 1905 in Brussels. Walthour's cycling career continued until the early 1920s. (Wiki)
author: unkown
Ned Murphy, a member of or visiting player at Christendom Cricket Club, Co. Waterford. Date: 28 July 1902
Cricket Match at Nainital, 1899.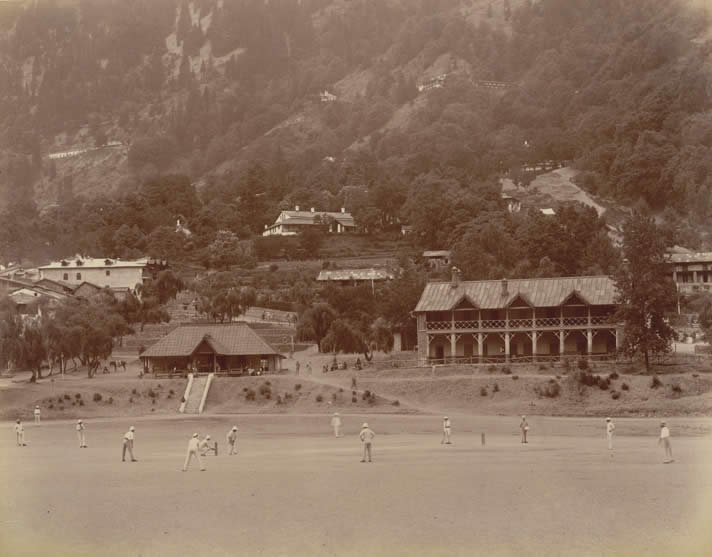 author: Col James Henry Erskine Reid
Syracuse freshmen on the rowing team sit around the dinner table on June 19, 1908.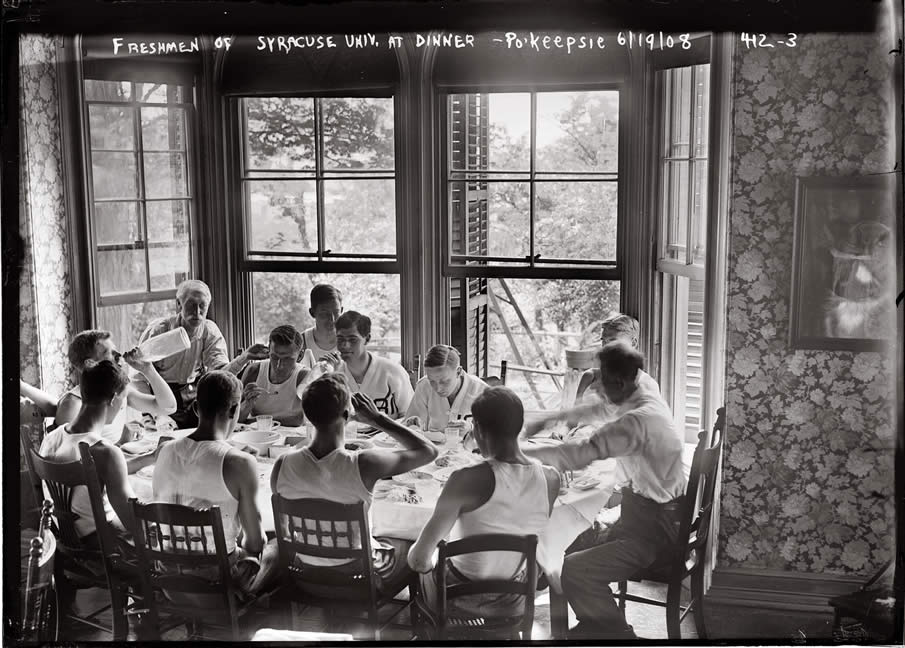 author:
library of congress
Queenie Newall. 1908 Olympics London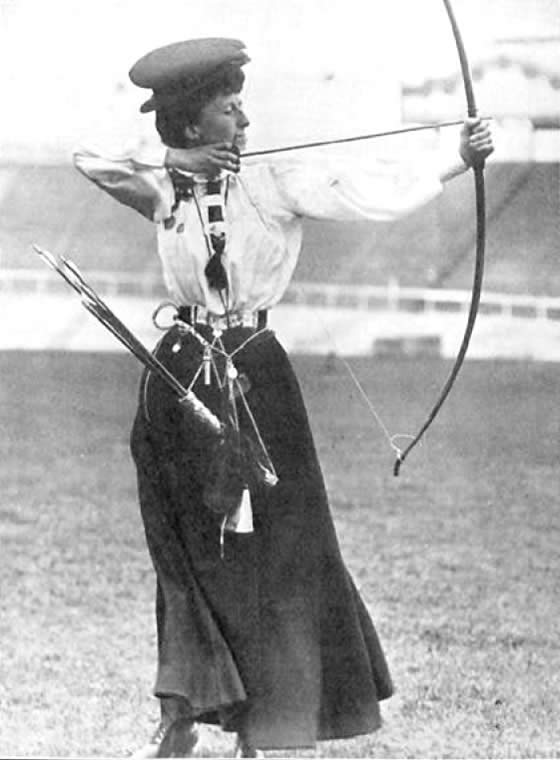 Sybil Fenton Newall (17 October 1854 – 24 June 1929), best known as Queenie Newall, was a British archer who won the gold medal at the 1908 Summer Olympics in London. She was 53 years old at the time, still the oldest female gold medal winner at the Olympic Games.
Newall was born in Littleborough, Lancashire in 1854.
Newall's Olympic score of 688 points gave her a victory of 46 points over the second-place finisher, Lottie Dod. (Wiki)
author: here
Saint-Louis 1904-DESMARTEAU Etienne (CAN) 1st in 56 pounds weight throw.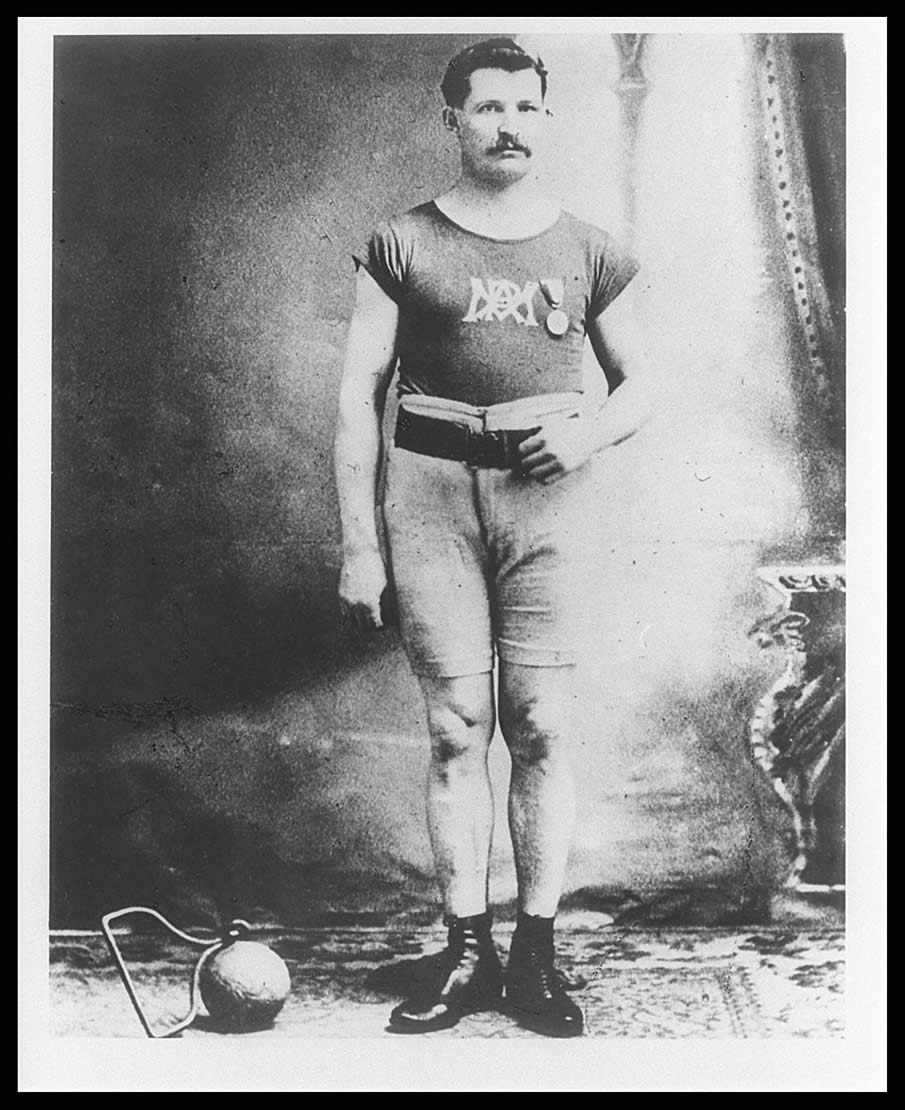 Étienne Desmarteau (4 February 1873 – 29 October 1905 in Boucherville, Quebec, Canada) was a Canadian athlete, winner of the weight throwing event at the 1904 Summer Olympics. For some time, it was thought that Desmarteau was the first Olympic champion from Canada, but it was later discovered that 1900 champion George Orton, who ran for an American university, was also Canadian.
The Boucherville-born Desmarteau, member of the Montréal Athletic Club was one of the top competitors in the 56 lb (25.4 kg) weight throwing event, which is no longer held. In 1902 he had won the American AAU championships, beating John Flanagan. Flanagan broke the world record in the event prior to the 1904 Olympics, making him one of the favourites for the event along with Desmarteau.
To compete in the Olympics, Desmarteau, a police officer in Montréal, had to ask for a leave of absence to go to St. Louis, but he was denied by his employer. He decided to go anyway, which cost him his job. In St. Louis, his first throw was 34 ft 4 in (10.46 m), enough for victory over Flanagan, who didn't manage better than 33 ft 4 in (10.16 m).
He received a hero's welcome back in Montréal and was rehired as a police officer. The following year, he died of typhoid fever. A district, a park and a sports arena in Montréal have been named after him; the Étienne Desmarteau Centre was used as a venue for basketball during the 1976 Summer Olympics. The District d'Étienne Desmarteau is part of the borough of Rosemont–La Petite-Patrie. (Wiki)
author: unkown
Cyclists ride in the first running of the Tour de France, in 1903.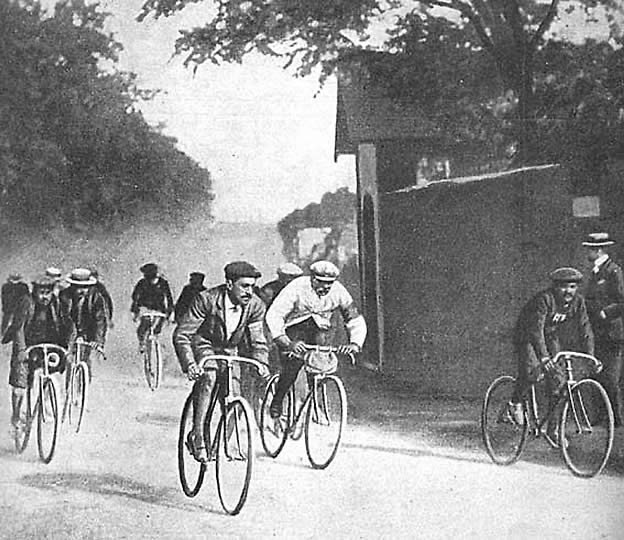 Maurice Garin, center with pale jersey, won the event.
Champion Cyclist. Known as "The Little Chimney Sweep", he was the winner of the first Tour de France. He and his family moved to France from their native Italy in 1885 and he began work as a chimney sweep. He bought his first bicycle in 1889 and started racing in northern France in 1892, the year he adopted French nationality. He won his first race in 1893, in spite of having to commandeer a rival's spare bike because his own had punctured. His won his first professional event while still an amateur, setting off after the other riders had started. He took home 300 francs which had been collected for him by the enthusiastic crowd after the race organizers refused to recognize his victory. His first official professional victory came in 1893 when he won a twenty-four hour race in Paris. He rode 701 kilometres in twenty-four hours, beating the only other finisher by forty-nine kilometres. He went on to set an hour record for riding behind pacers in 1895, and came third in the first Paris-Roubaix race in 1896. He was to win this event in the following year and again in 1898, when he had a lead of twenty minutes over his nearest rival. In 1901 he won the Paris-Brest-Paris race by almost two hours when the early leader, Lucien Lesna, stopped to take a bath. In 1903 he became the first ever winner of the Tour de France, winning 6125 francs in total prize money and being honoured with a procession in his adopted home town of Lens. He won the Tour again in 1904, but was later disqualified for allegedly taking a train for part of the race. He then retired from racing and ran a garage in Lens until his death at age eighty-five. the "Stade Velodrome Maurice Garin" in Lens was named in his honour in 1933. http://www.findagrave.com/cgi-bin/fg.cgi?page=gr&GRid=39861139
Circa 1915: American athlete Jim Thorpe posing in a football uniform on a field.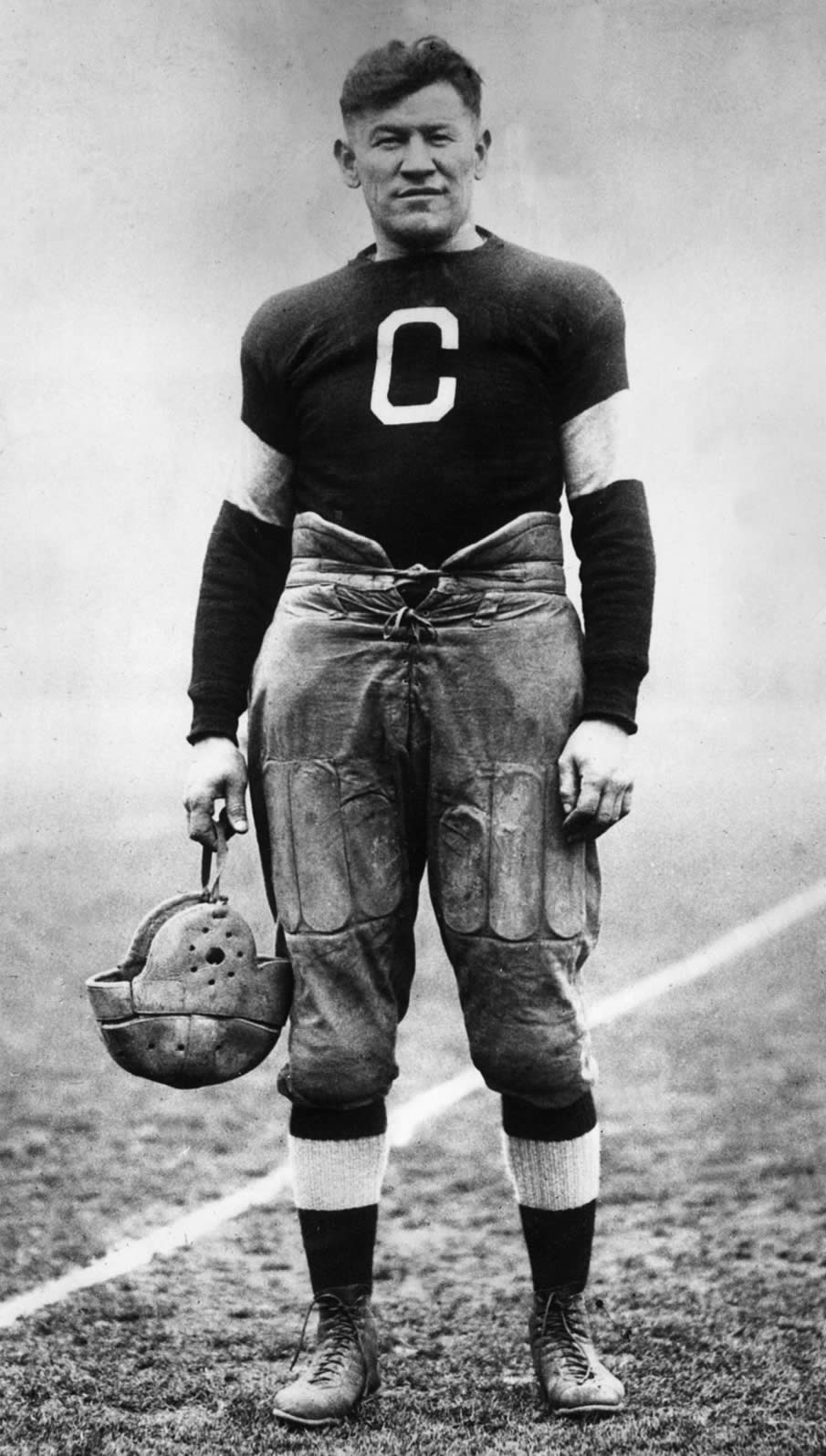 Jacobus Franciscus "Jim" Thorpe (Sac and Fox (Sauk): Wa-Tho-Huk, translated to Bright Path) (May 28, 1888 – March 28, 1953)was an American athlete of mixed ancestry (mixed Caucasian and American Indian). Considered one of the most versatile athletes of modern sports, he won Olympic gold medals for the 1912 pentathlon and decathlon, played American football (collegiate and professional), and also played professional baseball and basketball. He lost his Olympic titles after it was found he was paid for playing two seasons of semi-professional baseball before competing in the Olympics, thus violating the amateurism rules. In 1983, 30 years after his death, the International Olympic Committee (IOC) restored his Olympic medals.
Of Native American and European American ancestry, Thorpe grew up in the Sac and Fox nation in Oklahoma. He played as part of several All-American Indian teams throughout his career, and "barnstormed" (played mainly in small towns) as a professional basketball player with a team composed entirely of American Indians.
His professional sports career ended during the Great Depression; and Thorpe struggled to earn a living after that. He worked several odd jobs, struggled with alcoholism, and lived his last years in failing health and poverty. (Wiki)
author: Hulton Archive/Getty Images
Tug of war Lively clash of contestants at Drumleck, Co. Louth. Date: Circa 1907
Two women playing golf on a links in Co. Louth. Date: Circa 1907
Start of a bicycle race in 1901.
Kilkenny Hurler Date: Circa 1923
Supporter "riots", England, London, 1923.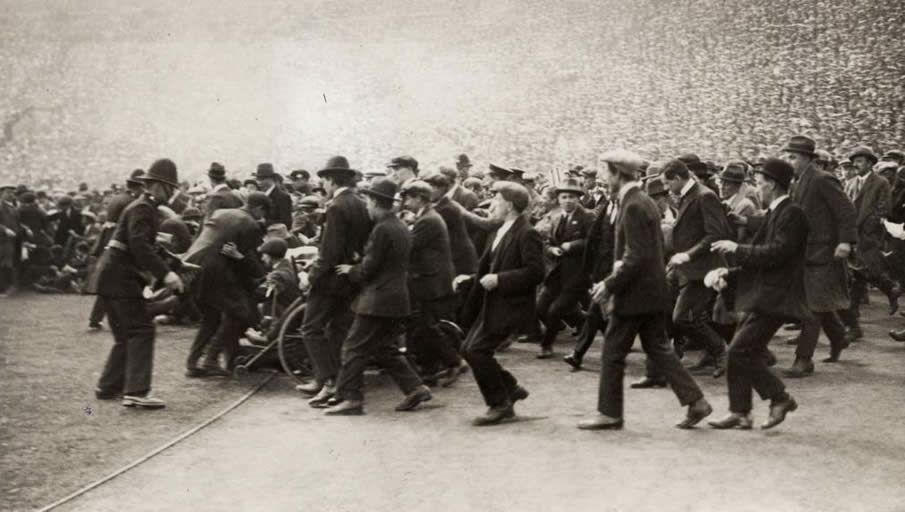 the public floods the field, just before the game starts. 300.000 tickets have been sold for the 125.000 seats in the new Wembley stadium.
author: Nationaal Archief NL
Boys proudly carrying their football boots around their neck. The Netherlands, 1915-1925.
League soccer match for the Dutch championship between HBS and Go Ahead Eagles (result 4-2). March 1925.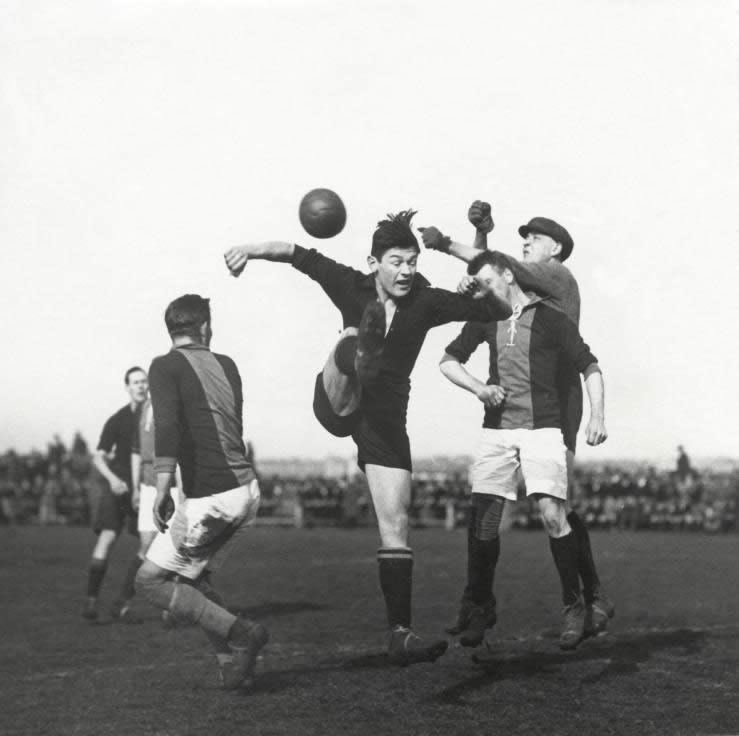 Moment of play in the Go Ahead goal area. To the right Go Ahead goalkeeper Leo Halle. Houtrust stadium, The Hague, the Netherlands.
author: Nationaal Archief NL
Soccer on motorbikes on the footbal pitch of Crystal Palace in London, England 1923.
Women's football. The team captains greet each other with a kiss. England, Preston, 1920.
Dutch skater Jaap Eden on the ice. Location here, 1890-1900.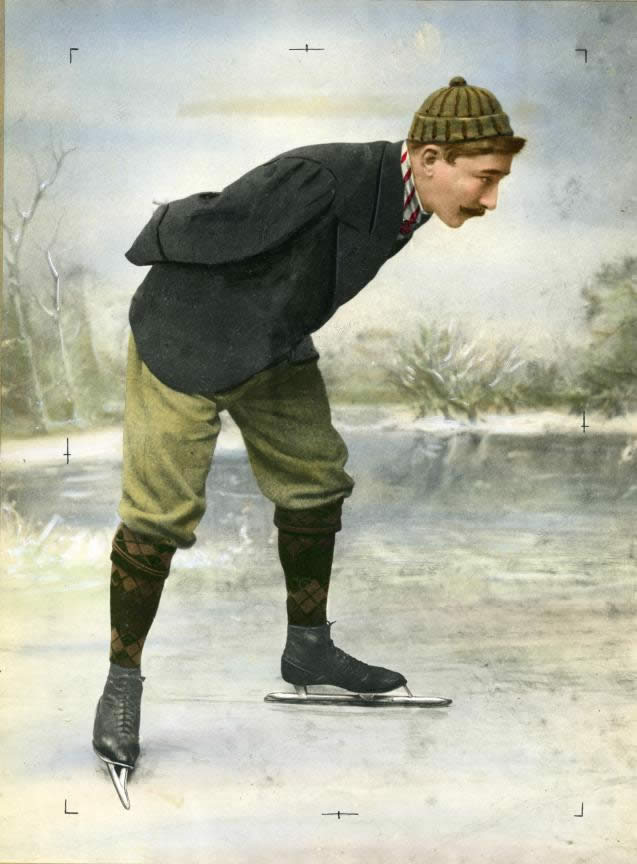 Coloured black and white photograph.
Jaap Eden, Dutch cyclist and skater, is by most people associated with the birth of modern speed skating. He became world champion 3 times (1893, 1895 and 1896). His world record 8.37.6 on 5000 meters from Hamar 25 February 1894 was standing for 20 years until finally broken by Oscar Mathisen in Davos 17 January 1914. The Russian Nikolaj Strunnikov went, outside competition, on Febrary 4, 1911 8.37.2 at Frogner during the Norwegian Championship, but this world record was not ratified by ISU until 1967. Eden's active career was considerably shortened by illness. He died in 1925. (http://evertstenlund.se/eden.htm)
author: Nationaal Archief NL
Ice-hockeying women in bathing suits. Minneapolis, USA, 1925.
Speed skating: Dutch skaters Lijkle Poepjes and B. van der Zee standing ready for the start of a skating race in Leeuwarden (the Netherlands), 1914.
Felix Sellier is angry after being hit by a car. Tour de France, early 1920s.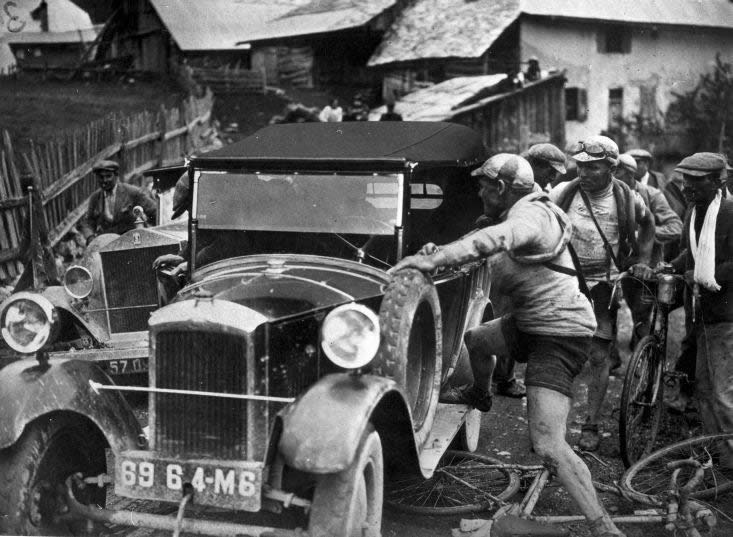 Félix Sellier (Spy, 2 January 1893 – Gembloux, 16 April 1965) was a Belgian professional road bicycle racer.
author: Nationaal Archief NL
The finish of the first Tour. At the right: the first winner, Maurice Garin. 1903
The famous Tour winner Lucien Petit-Breton (1907 and 1908).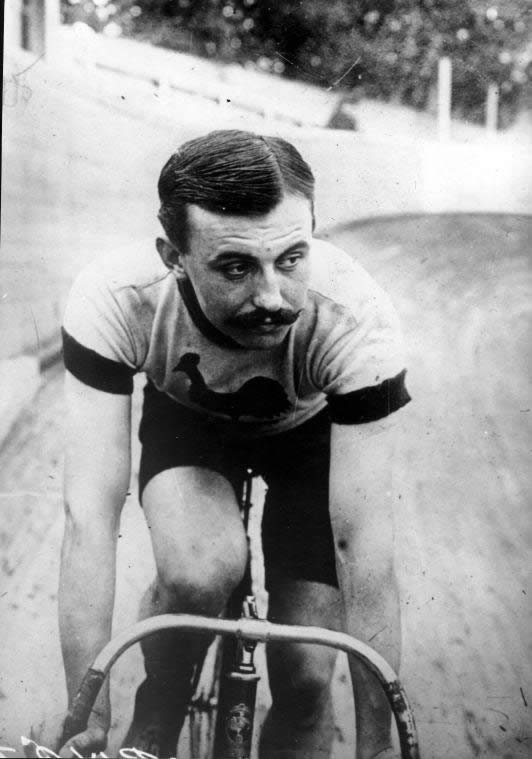 Lucien Petit Breton was born on the 18th October 1882 in Plessé, France. He began his racing career in Argentina where he had emigrated to at an early age. His father thought little of cycling and not an occupation for a young man. He likened it to being a circus clown. As a result Lucien had his Argentinian racing licence issued in the name of Breton and not his family name of Mazan. Petit was added at a race in Paris to avoid confusion with another rider with the name Breton. Along with winning the first Milan San Remo he became the first man to win the Tour De France twice. Another notable victory was the 1908 Paris-Brussels.
During the Great War, Petit Breton was killed. On the night of December 19 1917, 20km behind the front line he was driving a vehicle on a dark road. A drunken peasant with a horse drawn cart turned unexpectedly into his path. There was a terrible crash and Petit Breton was killed instantly. (http://milansanremo.co.uk/petitbreton.htm)
author: Nationaal Archief NL
April 1923. "Firpo." The Argentine heavyweight boxer Luis Angel Firpo in New York.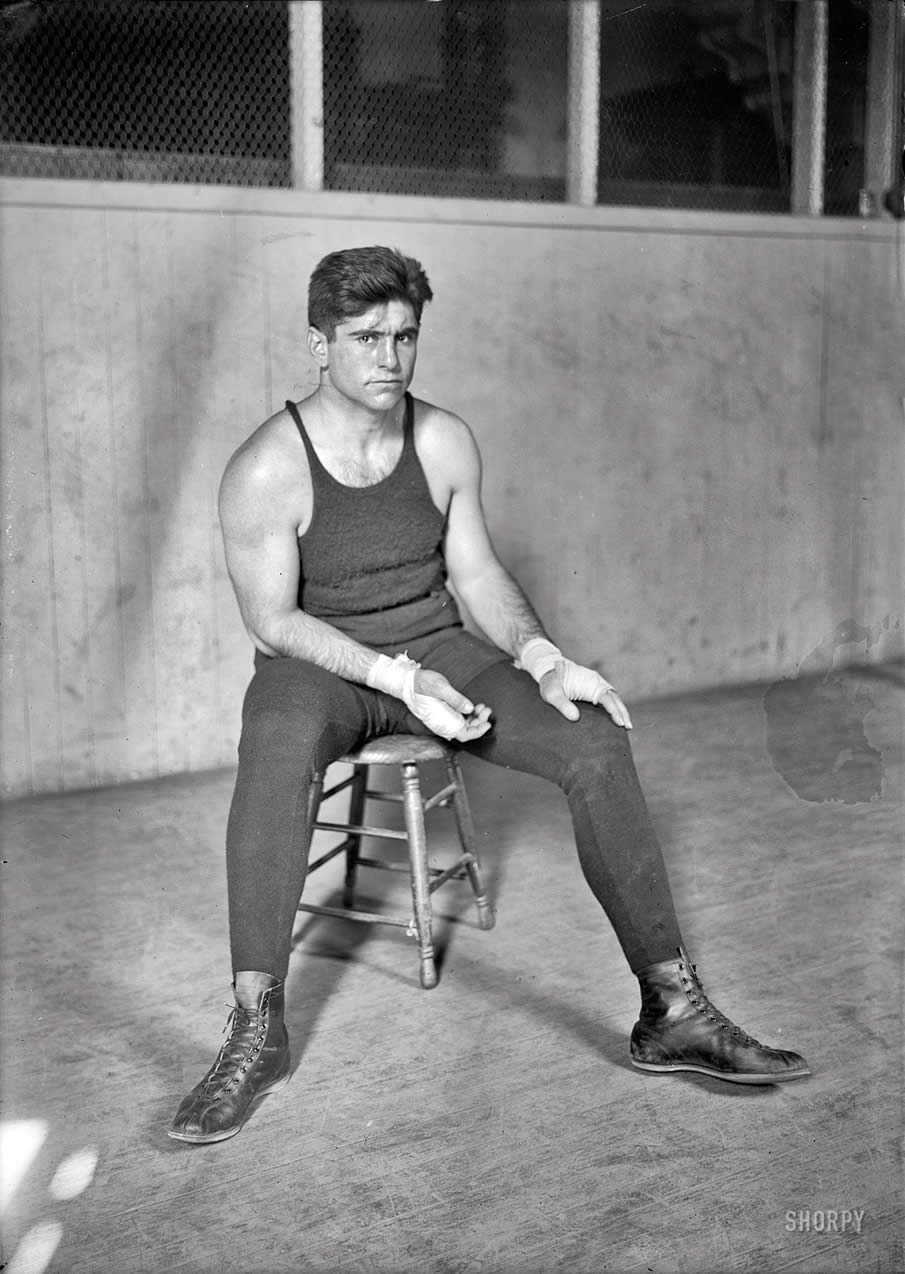 Firpo was born on October 11, 1894, in Junín, province of Buenos Aires, Argentina. At the age of 9 he moved with his family to Buenos Aires and at the age of 20 he began training with amateurs boxers. He is considered the father of Argentine boxing, for the massive devotion and support after his fight with Jack Dempsey in 1923.
On December 10, 1917 he began his professional career, measuring 1,88 meter and weighing 98 kilos. He was then nicknamed "The wild bull of the Pampas ", after an American journalist saw him bleeding badly during a fight, but staying on his feet. On April 30, 1920 he became the South American Champion, after a KO in the first against Dave Mills, in Santiago de Chile; where he had arrived by foot (crossing the Andes), due to lack of money for transportation..
With anyone knowing he had a fractured humero, on September 14, 1923, he fought for the World Heavy Weight Championship in New York against Jack Dempsey. The fight turned into a myth and many people think that it was the biggest fight of all the times. Jack Dempsey defeated Firpo by K.O. in the second round, after being thrown out of the ring in the Polo Grounds of New York.
During this intense and historical fight, Firpo fell approximately seven times in the first round; but at two minutes and a half of the first round, after his seventh fall, he recovered and hit Dempsey so hard that he threw him out of the ring for 17 seconds. There was a lot of controversy around this fall because the umpire did not end the fight and ultimately Firpo was defeated. The umpire, Johnny Gallagher, was suspended for five weeks by the Municipal Commission of New York. That day Firpo became a boxing legend for Argentinean fans.
In 1926 he retired from boxing after defeating Spalla for the second time; but returned one more time ten years later at the age 41. On June 11, 1936 he fought his last fight, at Luna Park Stadium, abandoning in the third round. His records indicate that he won 31 fights, tied 7 and lost 4. He died on August 7, 1960. (http://www.easybuenosairescity.com/biografias/firpo1.htm)
author: Library of Congress
July 29, 1922. Newark, New Jersey. "Girl athletes to sail on Aquitania. Stine, Sabie, Gilliland, Batson, Snow." Contestants bound for Paris, France, and the first international track meet for women.
Circa 1920s, "Boxing at Walter Reed Hospital."
August 15, 1922. Washington, D.C. "Florence Skadding and Mark Coles." At the Tidal Basin bathing pavilion.
1920 or 1921. "Lexington. Pike's Peak car."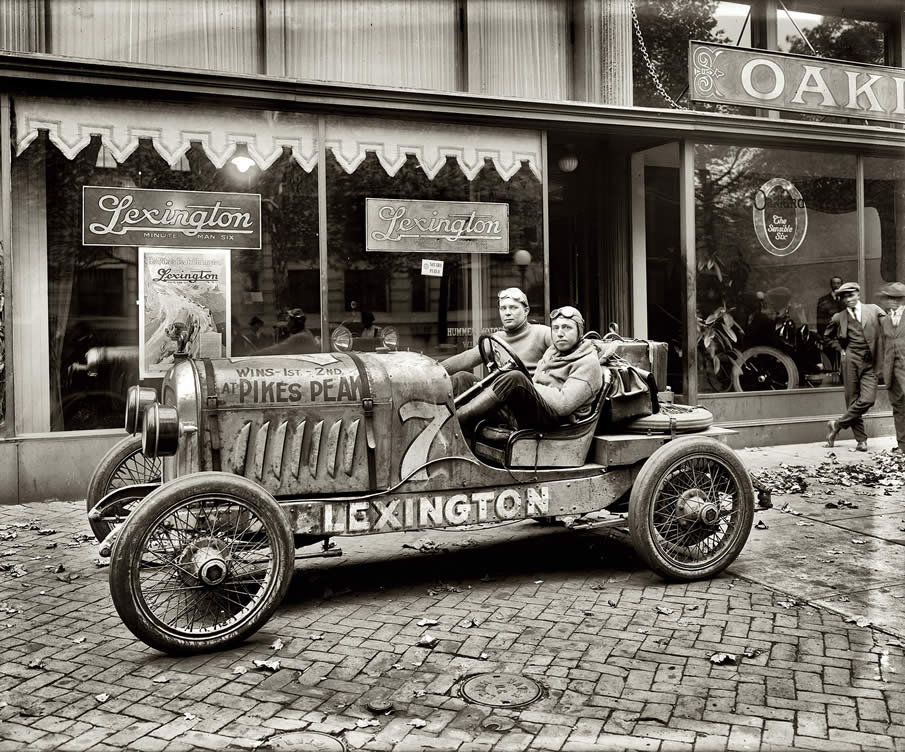 One of two Lexington racecars that placed first and second in the 1920 Pike's Peak hill climb seen at 1020 Connecticut Avenue N.W., the Washington branch of Hummer Motor Sales Company. E. Adie Hummer, Manager.
author: Library of Congress